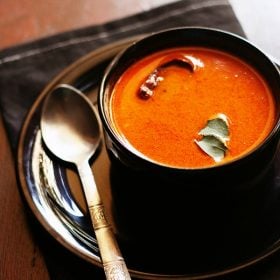 While the world is debating over the fact that whether a tomato is a vegetable or fruit (berry to be precise), here's a special Tomato Curry recipe from the Goan cuisine which you must absolutely try. The Tomato Curry is perfectly spiced with a hint of tang and earthiness of coconut. This recipe is also vegan friendly. So, you should not waste any more time and get going with this lovely recipe made with fresh, plump tomatoes.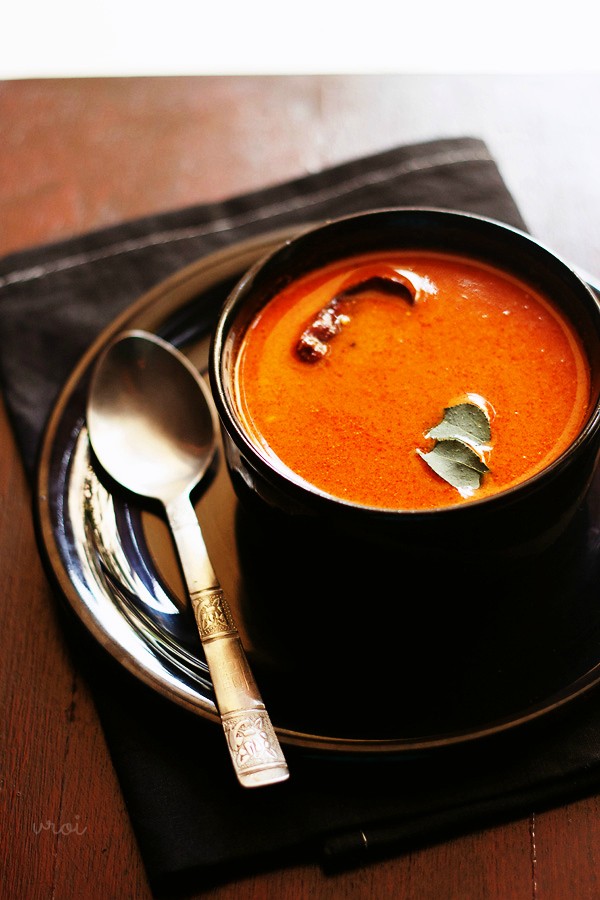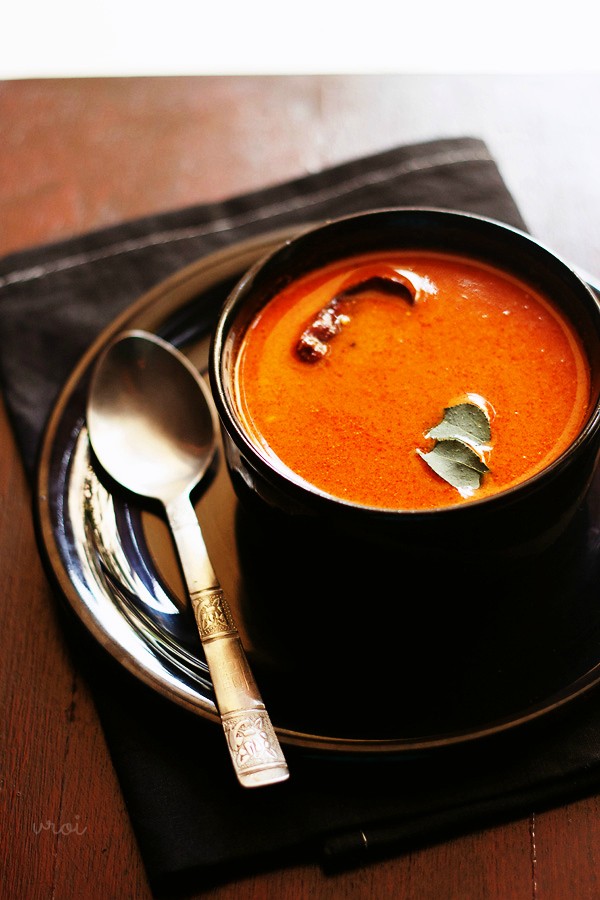 More on Tomato Curry
This Tomato Curry recipe is a family recipe, a special of my mother. It has the coastal flavors of ground spices and coconut, and I have been making it for many years now.
When there are no other vegetables in the kitchen, I go for this vegan Tomato Curry as tomatoes are always available as a default option.
Curry and rice is a meal I have grown up with. So, whenever I prepare this Tomato Curry, I pair it with steamed rice and I don't really need anything else to go with this combination. What's more is that this curry packs a punch of flavors.
This Tomato Curry recipe is similar to my recipe of Goan Curry With Mix Vegetables. The main difference is that the tomatoes add a slight element of tanginess in this curry of tomatoes.
This curry made with tomatoes does not have cumin in the masala paste but is added later. The subtle sweetness of the coconut and the heat of spices like red chilies beautifully balances the tanginess of the tomatoes.
I like this curry mild, and not hot or spicy. Hence, I always use dried Kashmiri red chilies which are mildly spicy and basically impart a bright red color to the curry. Depending on the type of dried red chilies, the taste and flavor of the curry changes from being a bit smoky to hot.
You can also add about a tablespoon of chopped fresh coriander leaves while grinding the masala paste. This brings in a fresh herby touch to the curry recipe.
Like most of the coconut-based curries, this curry also goes well with steaming cooked rice or chapati. Accompany a light side vegetable salad or a pickle with it. You can also have some stir-fried or pan-fried vegetable dish, by the side.
Step-by-Step Guide
How to make Tomato Curry
Make Tomato & Spices Paste
1. Take all the ingredients to be ground in a wet grinder jar or a sturdy blender:
½ cup tightly packed chopped tomatoes
4 to 5 dried Kashmiri red chilies, broken and seeds removed
2 to 3 small to medium garlic, sliced
⅔ cup tightly packed grated fresh coconut
2 teaspoons coriander seeds
1.5 tablespoons chopped onions
5 whole black peppercorns, optional
¼ teaspoon turmeric powder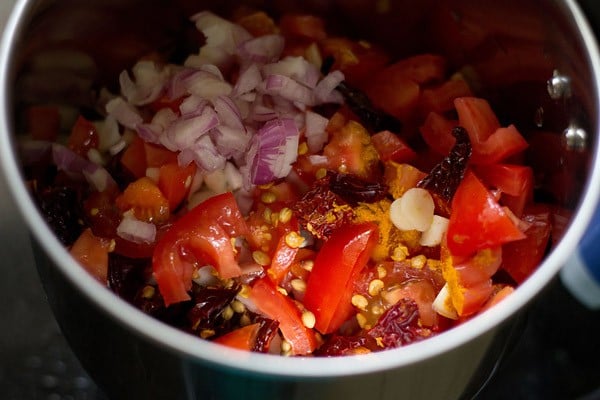 2. Add 3 tablespoons water and grind to a smooth paste. There should be no small chunks or pieces of coconut in the paste. Keep aside.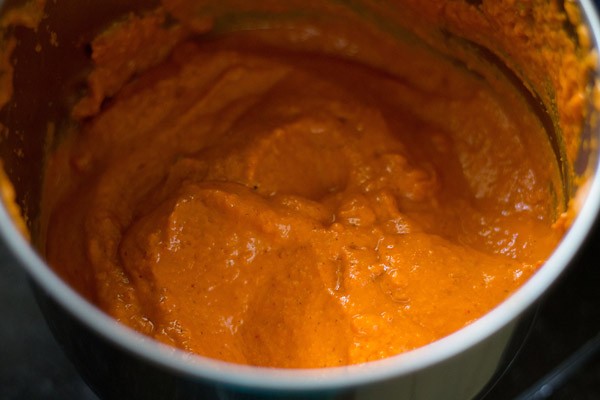 Make Tomato Curry
3. Heat 2 tablespoons oil in a pan or pot. Add 1 teaspoon mustard seeds and let them crackle. Then, add 1 teaspoon cumin seeds and fry till the crackle and change color.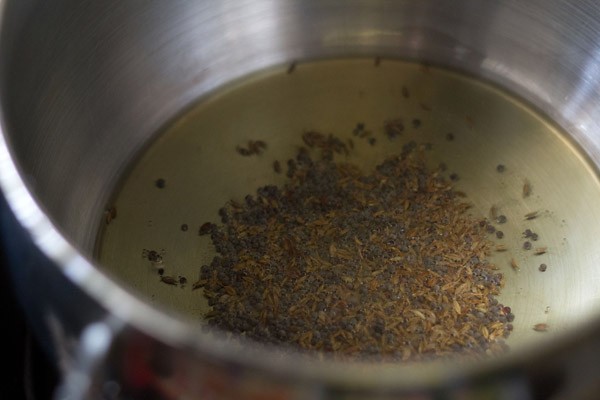 4. Add 1 tablespoon chopped onions or shallots and sauté till translucent on medium-low heat.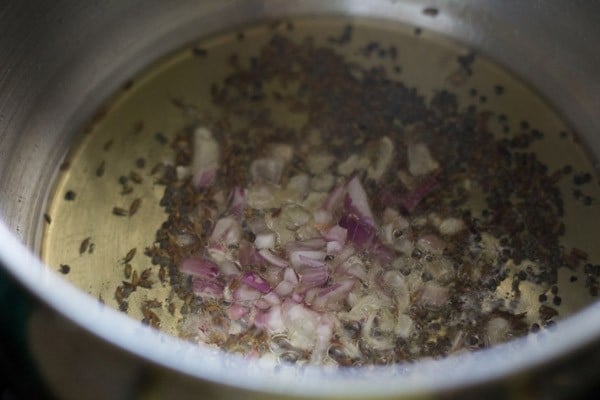 5. Then, add 6 to 7 curry leaves, 2 dried red chilies (seeds removed) and 1 pinch asafoetida (hing). Stir to mix.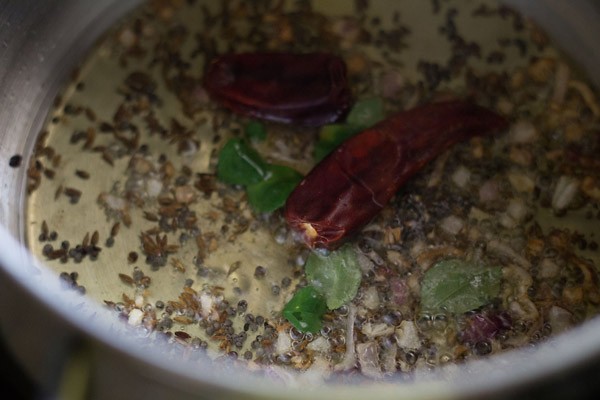 6. Add ½ to ⅓ cup chopped tomatoes.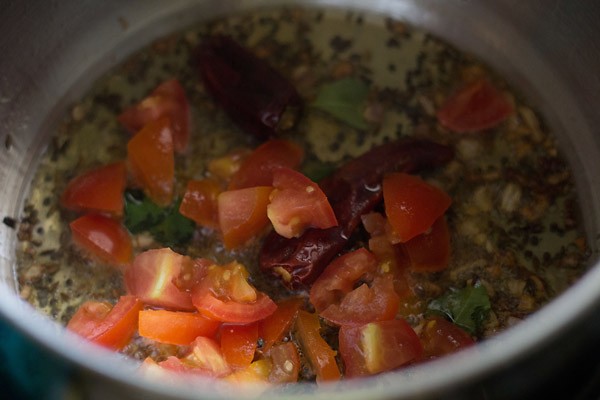 7. Sauté the tomatoes for 3 minutes on low heat.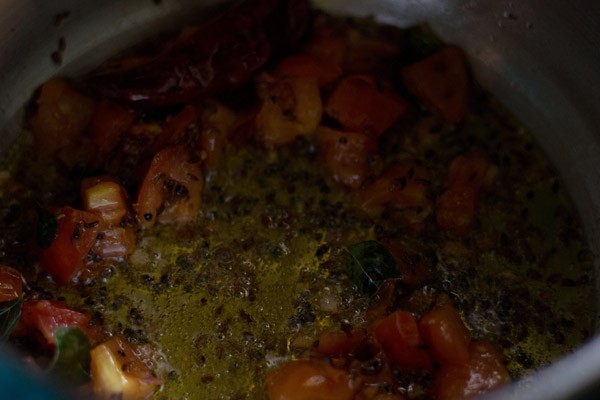 8. Add the prepared tomato-coconut-spice paste.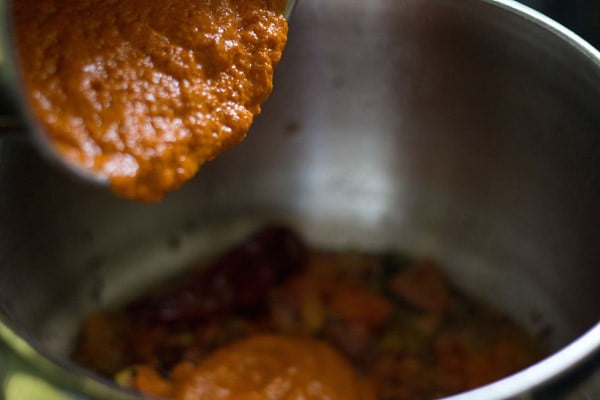 9. Stir and sauté for 1 to 2 minutes on low heat.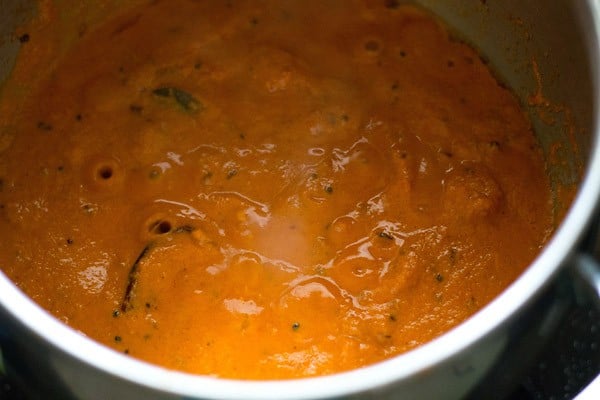 10. Add 3 cups water.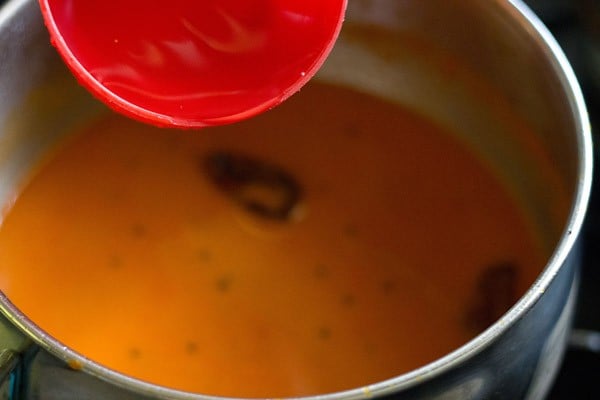 11. Season with salt as required.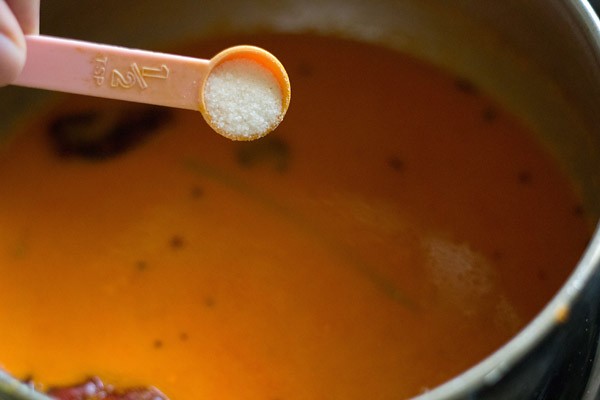 12. Bring to a complete boil first without a lid. Then, simmer the curry on low heat, again without a lid.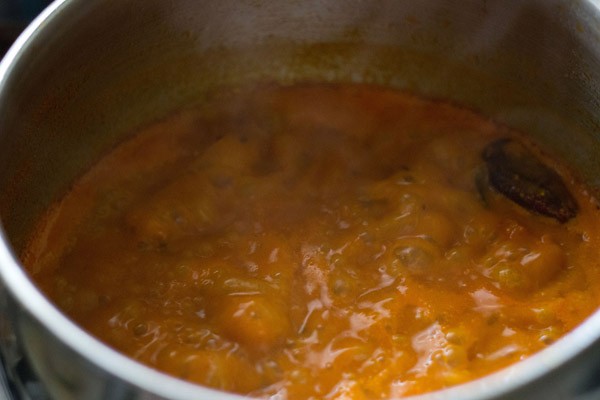 13. Simmer till you see oil floating on top of the curry. About 12 to 15 minutes on low heat after the first boil. Stir at intervals.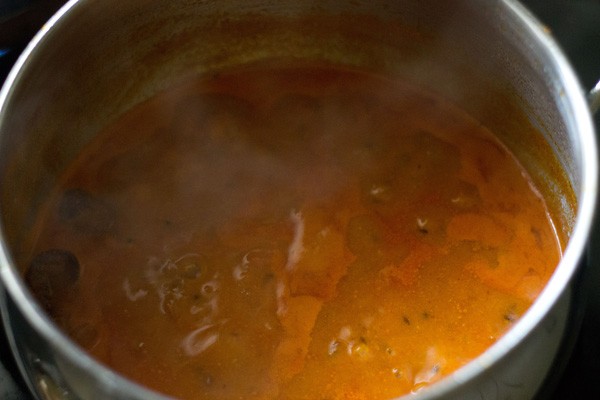 14. Serve the Tomato Curry hot with steamed rice, jeera rice or chapati.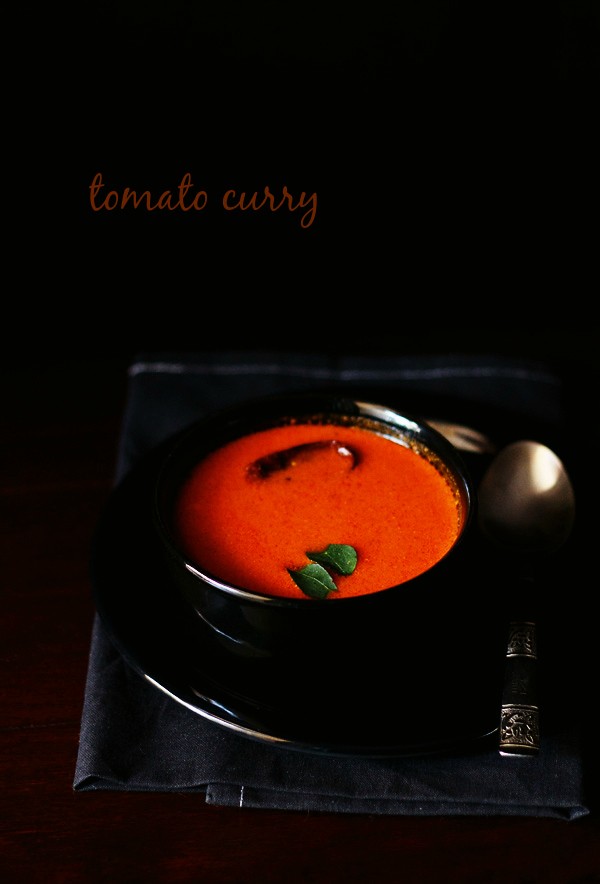 Goan Food
Whenever we think of Goa, we think of the sun, sand, beaches and a robust food culture. Though primarily with seafood and fish, there are some vegetarian preparations in Goan cuisine which are worth a mention. Just like this Tomato Curry recipe.
The roots of Goan cuisine lie in the Konkani culture with an influence of the Portuguese culture. Hence, a lot of Goan Catholic dishes are variations of Portuguese preparations.
Other staples in the Goan food culture include rice, breads and coconut. The use of some local spices along with vinegar, kokum and toddy is also extensive in the cuisine of Goa.
Popular Goan Catholic dishes are xacuti, cafreal, chorizo, balchao, ros omelette, sorpotel, vindaloo, sanna, poee/poi and sweets/desserts like bebinca, dodol, perada or guava cheese, madgane, cashew ladoo, doce (lentil fudge) etc. The Konkani term for desserts and sweets is 'godshem.'
When talking about this vibrant state, we can't miss mentioning about the Goan Hindu cuisine as well. Similar to the Saraswat cuisine of Konkani Brahmins, the Hindu cuisine of Goa is mildly spiced, along with being sweet and sour from the use of both jaggery and kokum/tamarind.
Though Hindu, this community falls under the pescatarian category, which means they also incorporate seafood in an otherwise typically vegetarian diet.
So, some of their common dishes are fried fish, kismur (a side dish made with dried fish/shrimp), ambot/humann (fish curry) and dangar (fish cutlets) as well. The vegetarian fare includes dishes like varan, shak/bhaaji, tondak and Solkadhi.
More Indian Curry Recipes To Try!
Please be sure to rate this recipe in the recipe card below if you have made it. For more vegetarian inspirations, Sign Up for my emails or follow me on Instagram, Youtube, Facebook, Pinterest or Twitter.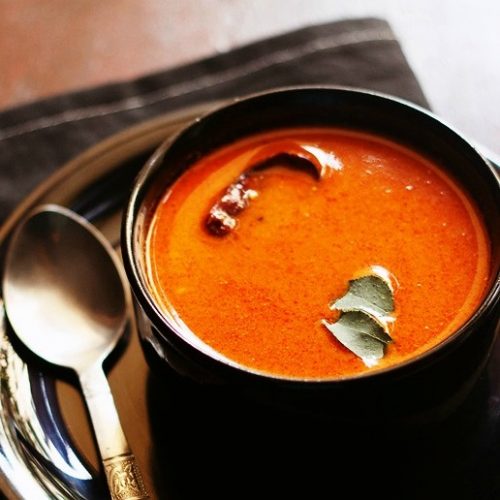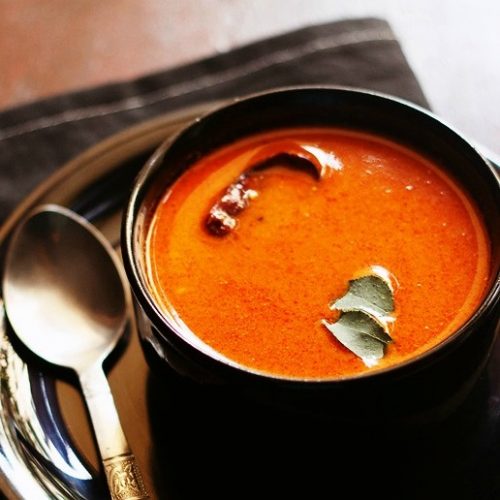 Tomato Curry
This is a spiced and mildly tangy Tomato Curry made with ground tomatoes, onions, coconut, spices and herbs. The recipe is from the Goan Cuisine. This curry is best served with some steamed rice.
Prep Time 20 mins
Cook Time 30 mins
Total Time 50 mins
For the Tomato-Spices Paste
Prevent your screen from going dark while making the recipe
Making Tomato-Spices Paste
Rinse and chop the onions, garlic and tomatoes.

Break the dry red chilies and deseed them if you prefer.

Grate the coconut and keep aside. You can also chop the coconut into small pieces.

Take all the ingredients to be ground in a wet grinder jar or a sturdy blender – chopped tomatoes, broken red chilies, garlic, coconut, coriander seeds, chopped onion, whole black pepper and turmeric powder.

Add 3 tablespoons of water and grind to a smooth fine paste. There should be no small chunks or pieces of coconut in the masala paste. Keep the ground paste aside.
Making Tomato Curry
Heat oil in a pan or pot. Add mustard seeds and crackle them.

Then add cumin seeds. Fry till they splutter. Add onions and sauté stirring often till translucent

Then add curry leaves, dry red chilies and asafoetida(hing).

Stir and then add tomatoes. Sauté them for 3 minutes.

Add the ground masala paste and sauté for 1 to 2 mins, stirring often.

Next add 3 cups water. Season with salt as needed.

Bring to a complete boil first without a lid. Then simmer the curry on a low heat, again without a lid. Stir the curry at intervals.

Simmer till you see oil floating on top of the curry. About 12 to 15 minutes on a low heat after the first boil.

Garnish with coriander leaves and serve Tomato Curry hot with steamed rice or chapathi or jeera rice.
About 1 tablespoon of chopped coriander leaves can also be added while grinding the masala paste.
For a slight thicker consistency in the tomato curry, reduce the amount of water. 
If the dry red chillies you use is hot or pungent, then reduce their numbers. For a bright orange or red colored curry, I suggest to use dried Kashmiri red chillies. 
Use any neutral oil. You can also use coconut oil. 
Nutrition Facts
Tomato Curry
Amount Per Serving
Calories 196 Calories from Fat 153
% Daily Value*
Fat 17g26%
Saturated Fat 9g56%
Polyunsaturated Fat 1g
Monounsaturated Fat 7g
Sodium 305mg13%
Potassium 363mg10%
Carbohydrates 11g4%
Fiber 4g17%
Sugar 5g6%
Protein 3g6%
Vitamin A 876IU18%
Vitamin B1 (Thiamine) 1mg67%
Vitamin B2 (Riboflavin) 1mg59%
Vitamin B3 (Niacin) 18mg90%
Vitamin B6 1mg50%
Vitamin C 101mg122%
Vitamin E 4mg27%
Vitamin K 11µg10%
Calcium 40mg4%
Vitamin B9 (Folate) 196µg49%
Iron 2mg11%
Magnesium 37mg9%
Phosphorus 76mg8%
Zinc 1mg7%
* Percent Daily Values are based on a 2000 calorie diet.
This Tomato Curry recipe post from the blog archives first published in September 2014 has been republished and updated on 2 August 2022.